Model P24 with optional Valance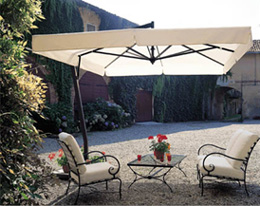 Model P20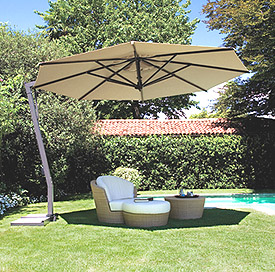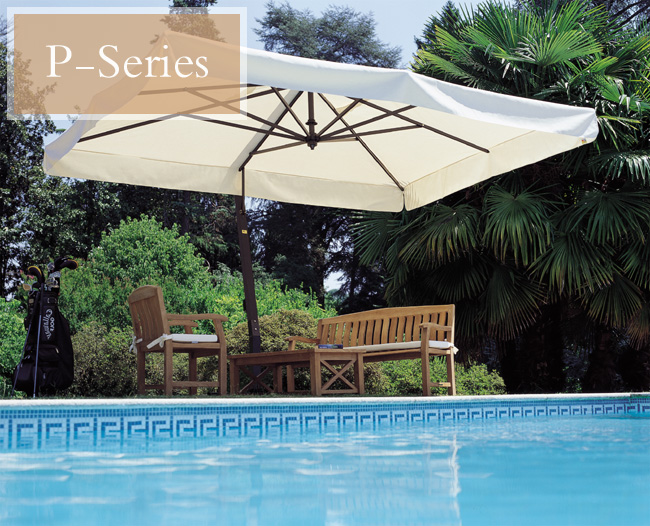 Model P19 with optional Valance
P-Series Giant Cantilever Umbrella
Features: hassle-free crank opening, full 360 degree rotation.
Frame: peppercorn brown powder-coated aluminum, 8 ribs
Model P19-S has a silver colour powder-coated frame for a sleek, contemporary look
Canopy style: market style (standard) or with optional valances
Canopy Dimensions and frame colors:
10ft square - Model P24 (peppercorn brown frame)
10 ft deep x 13 ft wide rectangular - Model P19 (peppercorn brown frame) or P19-S (silver frame)
11.5 ft square - Model P17 (peppercorn brown frame)
13 ft octagonal - Model P20 (peppercorn brown frame)

This very sturdy cantilevered umbrella frame is top pick for commercial
patios! All welded connections and the canopy braced to the upright
post, even windier locations can now offer shade to their clients. We are
proud to say that over the years we have seen these umbrellas placed in a large number
of cafes, restaurants, golf clubs and hotel pools, across North America and around the world.
Places where they are in use all day without active supervision, providing safe,
effective shading for guests that expect only the best.
Base Options:
-Freestanding Offset Base FSB/OS24: Aluminum frame design to accept readily available 24"x24" concrete pavers for ballast. Minimum weight needed is 400lbs
-Deck Mount Plate DMT16: A 16" diameter coated steel plate to be bolted to an existing solid surface.
-Ground Insert Base GIB: A sleeve to be poured into concrete for permanent installation. This has the smallest possible footprint of all bases
Model P17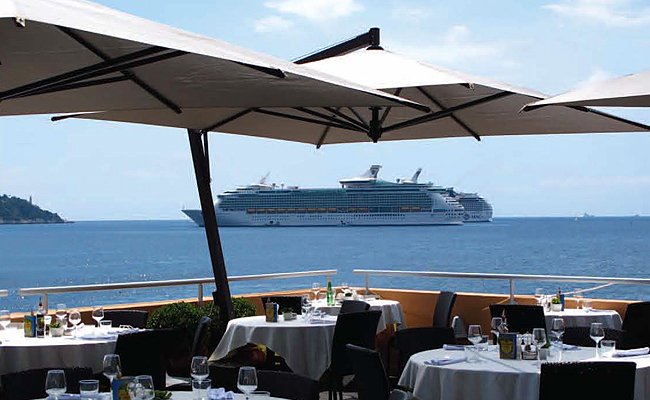 Model P19-S